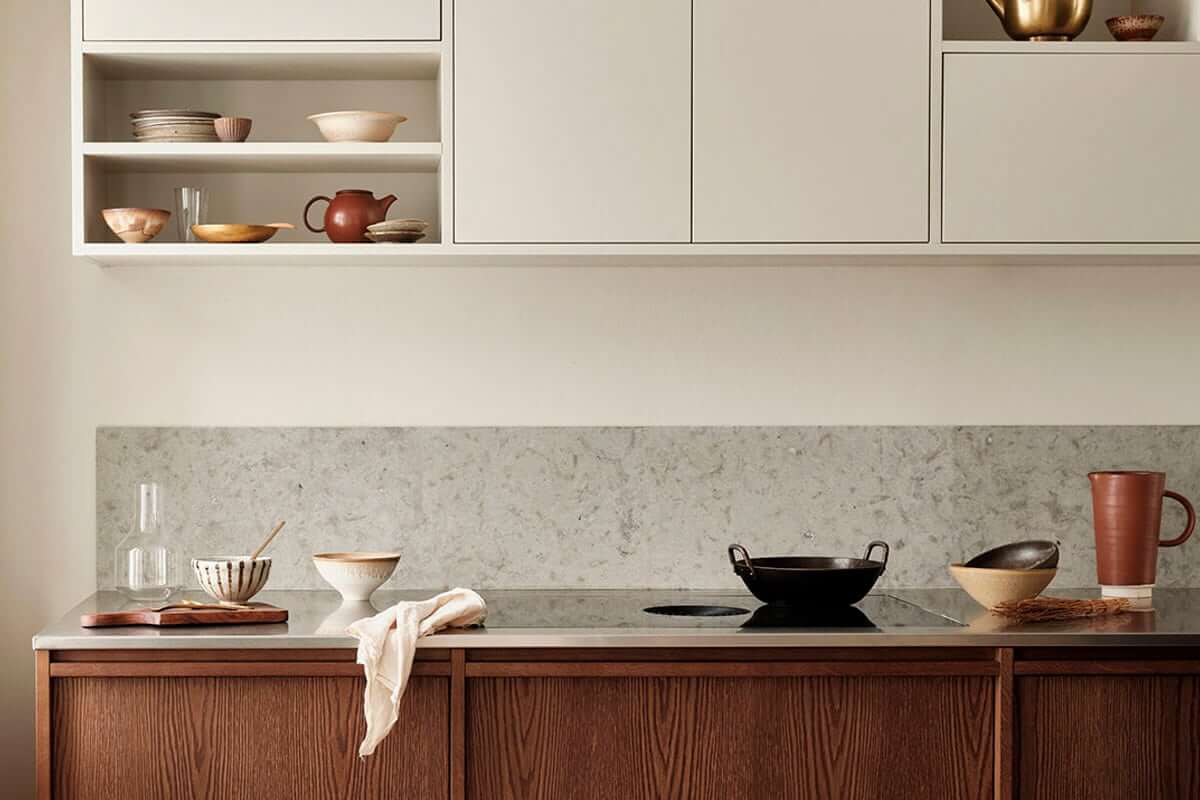 Do you have in mind to give a more avant-garde touch to this space? Then you are in the right place, because here you will discover the latest trends in kitchens in 2023. Let yourself be inspired by these creative and original decorative ideas in this 2023. I assure you that you will not regret it.Let's get to it!
As you already know us, you know that we love to find those ideas and decorative styles that are trendy and sweeping in this 2023. So, if you want to get that much desired modern kitchen, you can't miss the kitchen trends of 2023. Get inspired and take note!
Handleless cabinets
The new trend is to have kitchens with clean lines and furniture without handles or with other opening systems. There is an increasing tendency to look for solutions to integrate or hide the handles of the cabinet doors.
Due to the new "open space" fashion in kitchens, the aim is to create a simpler and more discreet environment so as not to break too much with the style of the living room or dining room to which it is attached.
This pale green vinyl will not leave indifferent those who are looking for trend and modernity. In addition, you can mix it with other materials such as marble or even with neutral tones such as gray.
You can complement it by adding leafy plants with large leaves such as a ficus, a monstera or banana tree.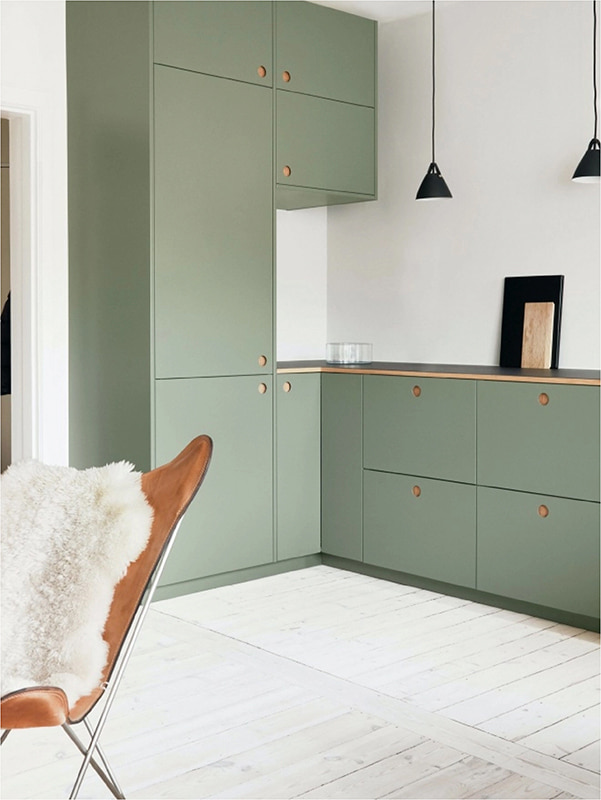 If you prefer a more natural tone, Arena is the color you need. You will be able to find it with different finishes such as gloss, matte and wood texture to better fit your home decor.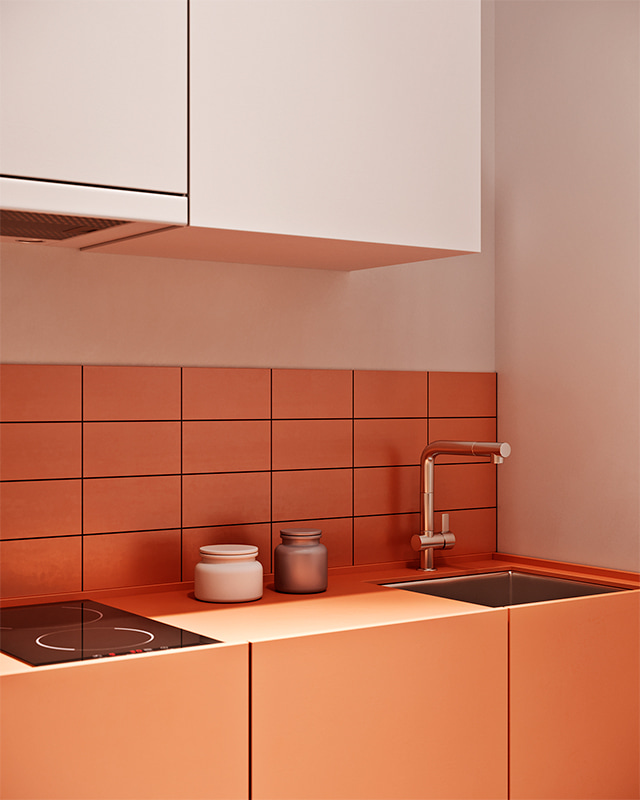 Are you more into natural textures? Then go for this Heimatra wood design with medium and light tones. Its color and texture will bring calm and brightness to your spaces. They also complement very well in minimalist styles such as wabi-sabi or japandi.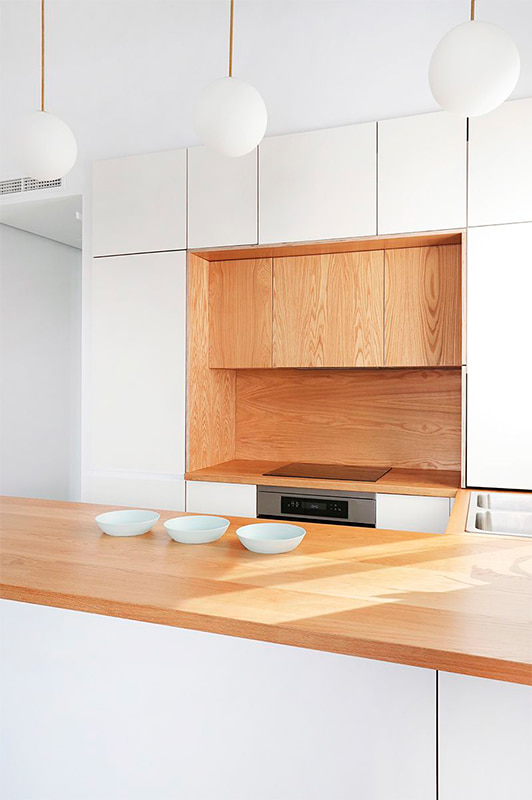 Original kitchen fronts and walls
You don't have to settle for a boring and simple kitchen. There are more and more opportunities and tools that help you customize it to your style and the decorative style of your home.
In this case, we are talking about self-adhesive washable vinyls for use on kitchen fronts. It is a very creative and attractive decoration idea.
Do not miss the kitchens that have caught our attention for their originality, beauty and elegance.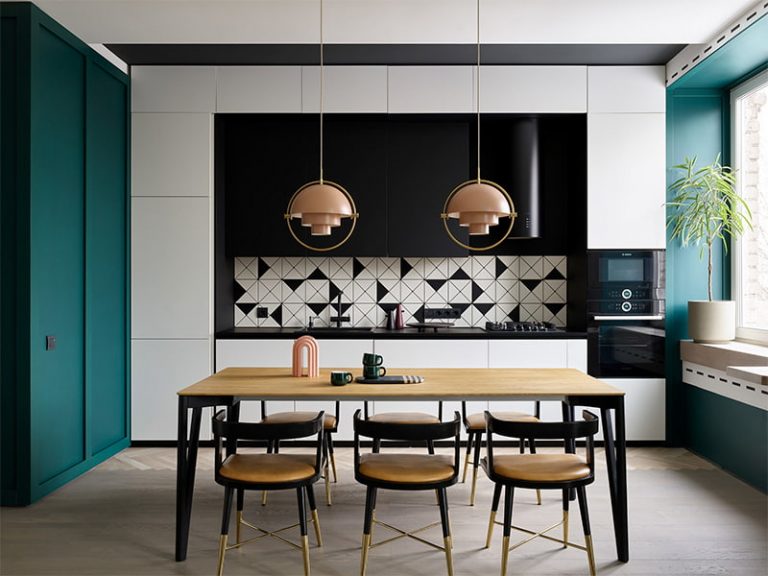 This vinyl mural is of Mediterranean style and inspired by Ibiza, therefore, neutral and cream tones predominate, combining palm leaves with mosteras, pampas and dry leaves.
You can say that it is a mix of boho and country.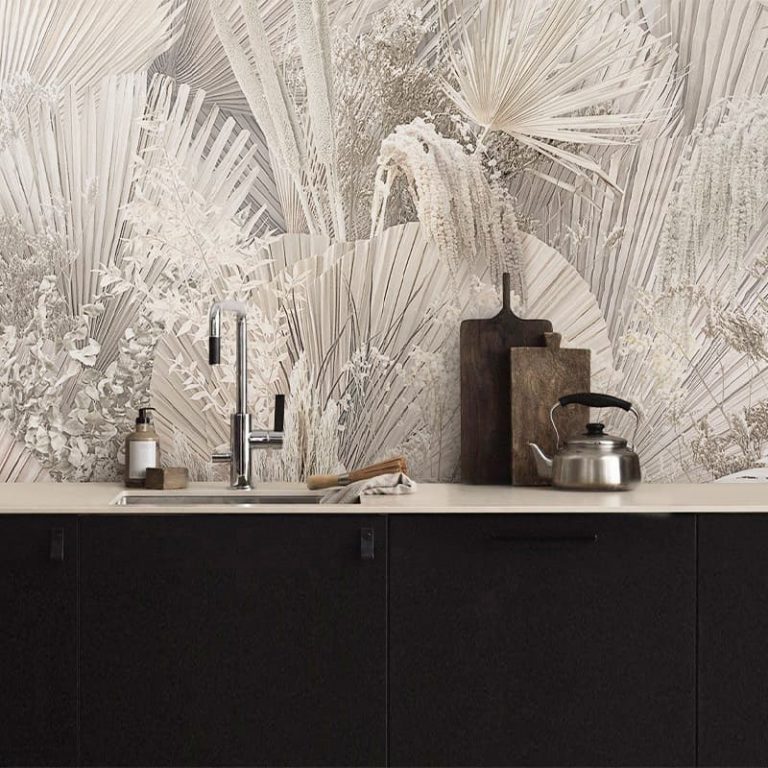 Open and multifunctional kitchens
Nowadays, kitchens have become versatile spaces, that is, places where to cook, eat, work or rest.
As we have seen in previous seasons, kitchens are designed with the objective of allowing this function of shared space. A kitchen open to the living room enlivens the environment, since it encourages social interaction within the home.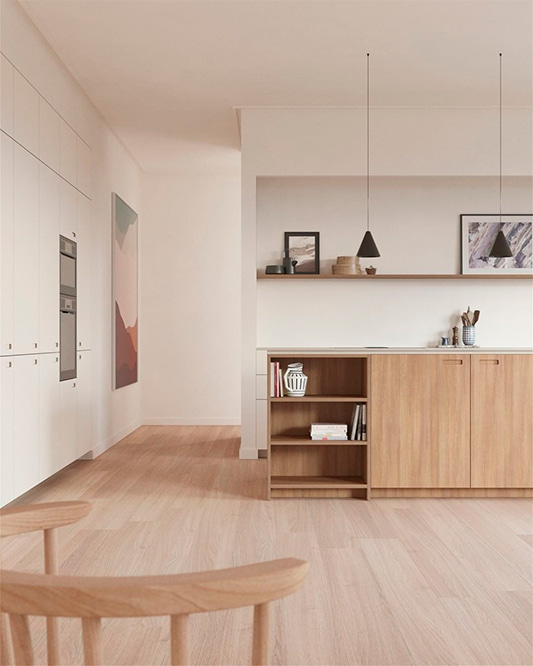 If you are looking to give a touch of color to your decorations try the caldera tone. You can combine it with decorative styles such as raw, boho, Mediterranean and rustic.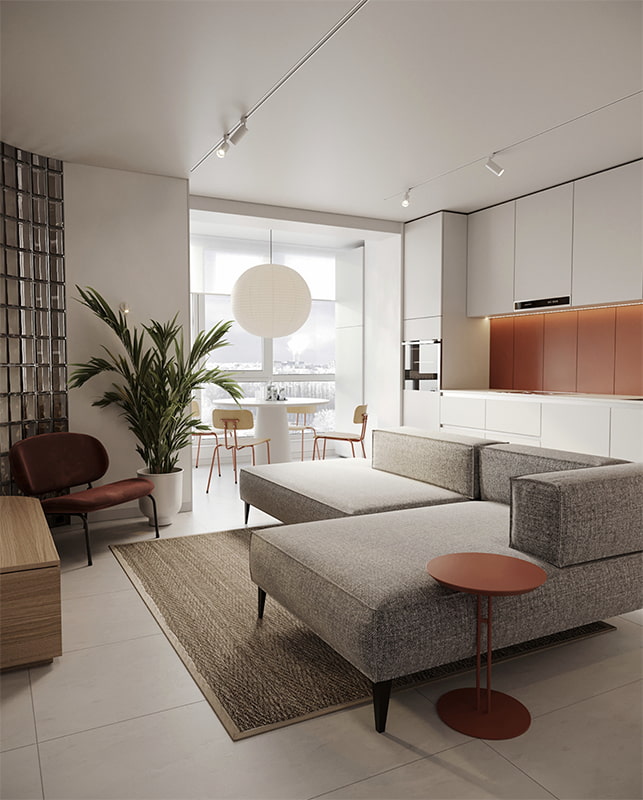 If you are more daring, you need to combine the natural wood texture and bluish hues. The latest stylistic trends combine them with plants, large posters, marble, black colors and small golden pieces as complements.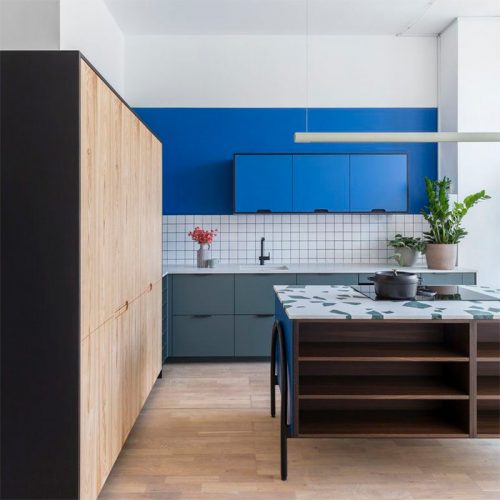 Natural textures: Marbles
Mixing raw materials is what we are going to see more this year in kitchens both in countertops and walls. Materials such as marble, stone or granite are used to find that point of connection with nature.
Black marble is on trend and is here to stay. It is a great option if you are looking to create a risky and very fresh space.
The following design will bring distinction and elegance to your rooms. It is ideal if you use it both on the front wall and on the countertop, giving continuity to the texture. You can add other shades such as white and dark gray, but the total black is always a success.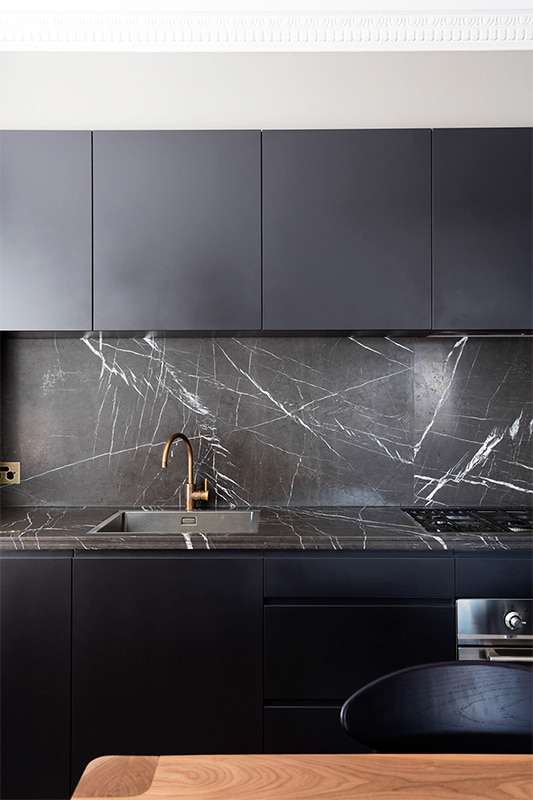 Anything goes when it comes to using this material. In the case of Calacatta marble, white with gray veins, it is a very versatile and timeless design.
In this version, it provides elegance and warmth to interiors. If you want to apply it on larger surfaces, it can be combined alternately and thus give greater continuity to the texture.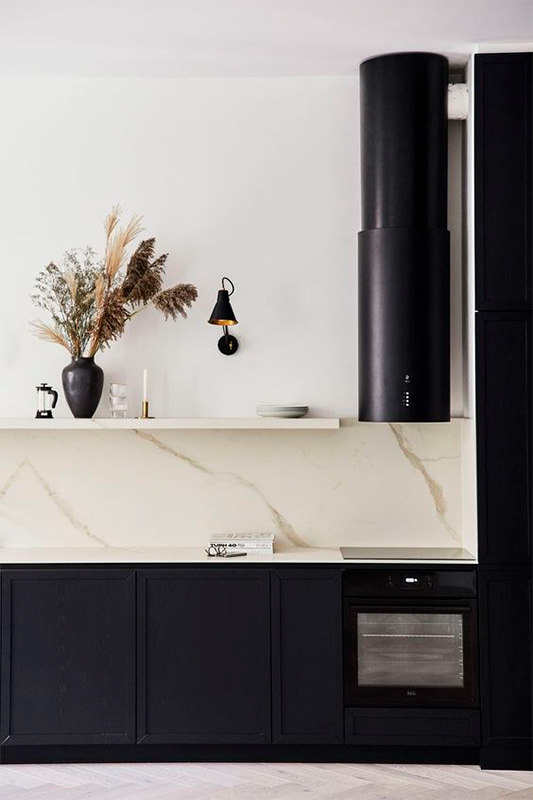 Natural textures: Wood
Continuing with this trend, you will see kitchens decorated with raw wood in medium tones such as oak, which are also used in combination with desaturated tones, smooth or stone.
If you are looking to bring warmth to your kitchen, you can opt for imitation wood vinyls being a winning option for its authentic look and ease of use.
In addition, the decoration with dark wood grain and defined knots give the interior an elegant and sober style. It is also very suitable for use in living rooms or foyers.
Its sophistication and simplicity make this design a good choice to stand the test of time.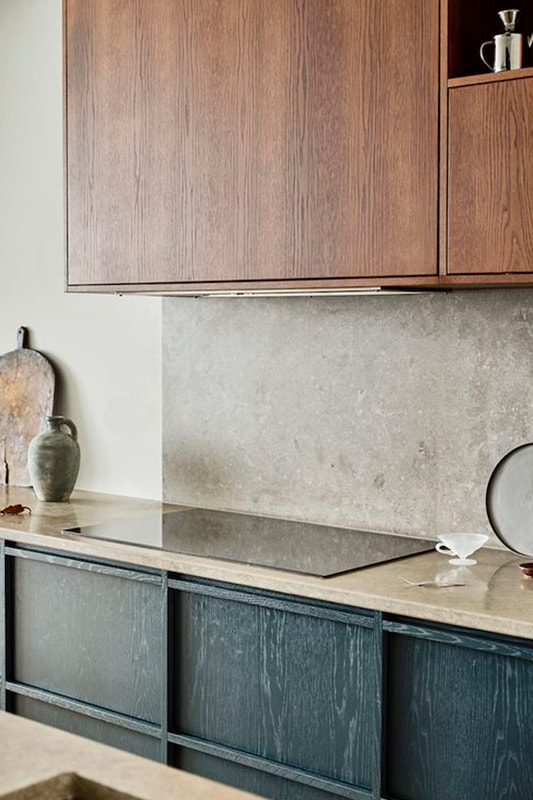 Natural textures: Stones and terrazzo
As you have seen, natural materials such as terrazzo are widely used in interior decoration such as kitchens in recent years.
Thanks to its versatility, you can use it to create more serious and cold environments as to make them more fun and warm.
In other words, modern terrazzo texture is a good bet if you want to give your kitchen an elegant and desaturated look. Its shades make this vinyl compatible with an infinite number of decorative styles.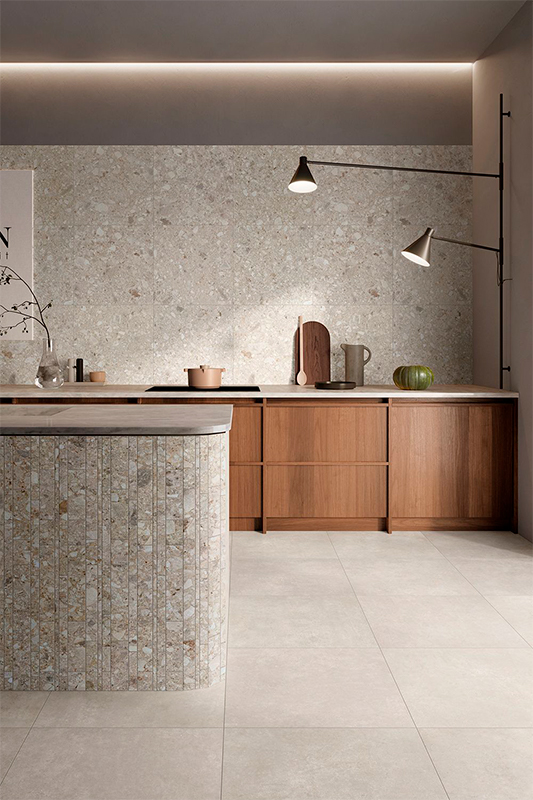 In the following photograph, this vintage texture, gray-toned, low-contrast terrazzo used in the front, gives a harmonious balance between size and density, giving it a neutral character.
For this reason, it is ideal for use in combination with any other decorative style.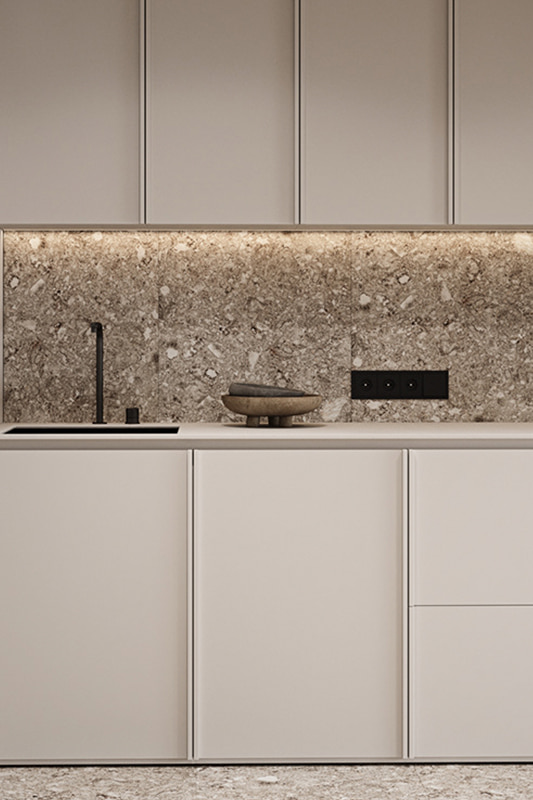 Do you dare to implement the next combination? If we know how to use correctly this warm pastel pink with stone terrazzo texture, you will get a very chic, fresh and cozy atmosphere.
The secret lies in the use of a balanced color palette in combination with modern and clean lines.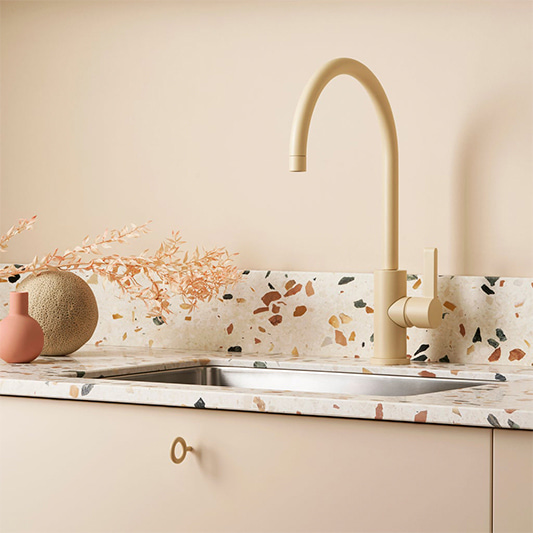 Rattan details
These natural materials have come on strong. A kitchen with a wicker and rattan decor coupled with this sepia brown color will create a calm and elegant atmosphere.
It combines perfectly with the wabi-sabi and japandi style. In addition, it will look perfect with earth tones, beige, off-white and dark or natural untreated woods.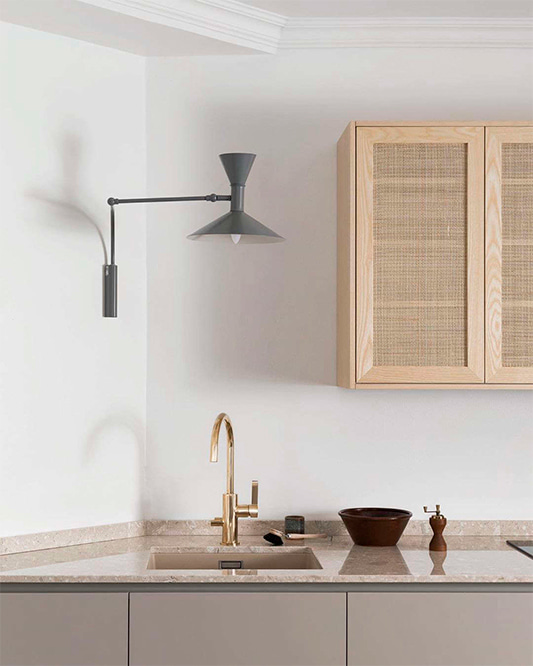 Slatted and curved panels
The fluted or grooved finishes are arousing great enthusiasm and admiration among interior design experts. The kitchen is one of the spaces where it is gaining more strength, and we can see it on walls and cabinets as well as on islands or curved peninsulas.
Therefore, we are facing an ideal wood to get a natural touch in your spaces. Similarly, it is a good idea to incorporate other natural elements such as pots or natural fibers in chairs or lamps.
To make your kitchen look more diaphanous you can mix it with light tones such as white or other warmer shades such as beige.
You're going to want to spend all your time here!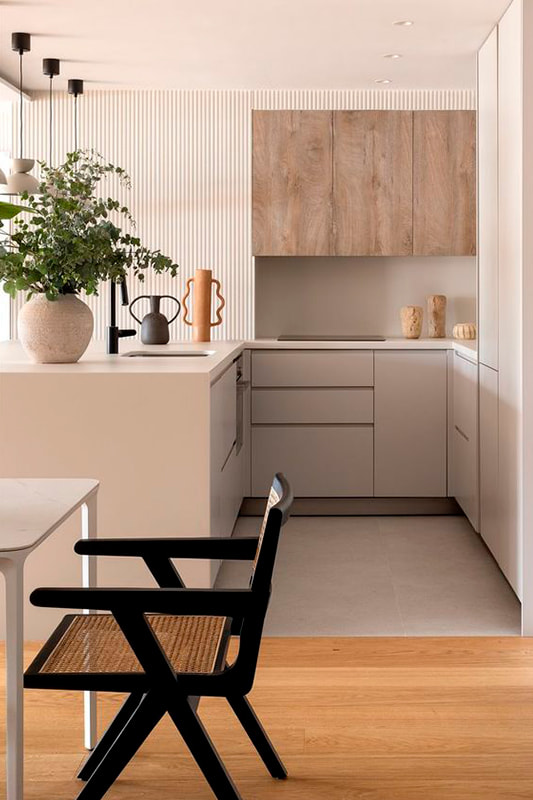 Look at how these kitchens look with both white and beige slatted panels and their curved finished surfaces. They are ideal!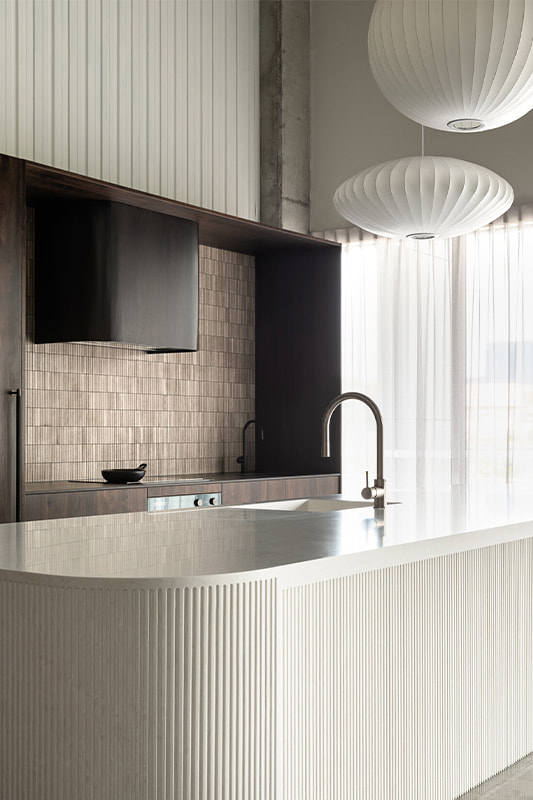 Natural and soft colors
By merging the kitchen with other rooms such as the living room or dining room, has triggered the integration of all kitchen furniture on the walls, thus disappearing discordant shapes and colors.
In this way, more and more use is being made of neutral and homogeneous colors such as grays.
Although, due to the trend of linking the home to nature, we can also see other combinations in warmer shades such as earth and green colors that will bring tranquility and calm to the home.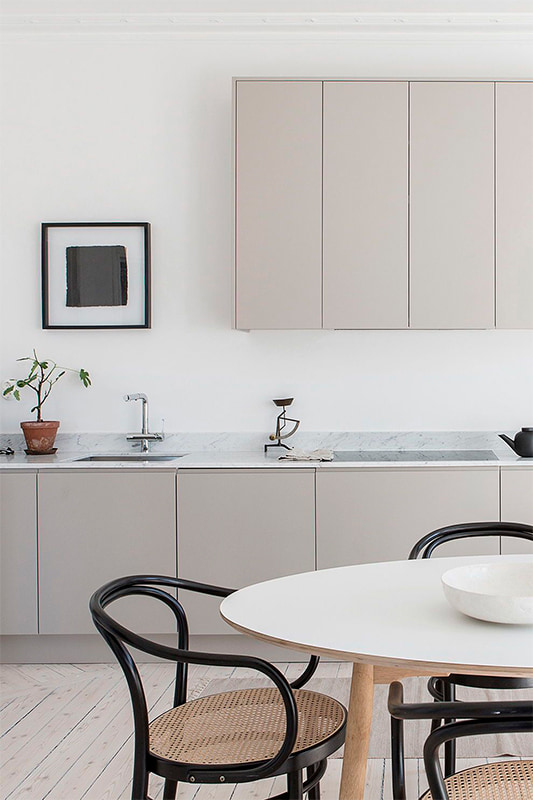 Not only can you apply plain colors, but also geometric patterns of lines, curves and circles.
You can complement it with any other style, although it is very common in midcentury, Nordic, art deco, among others.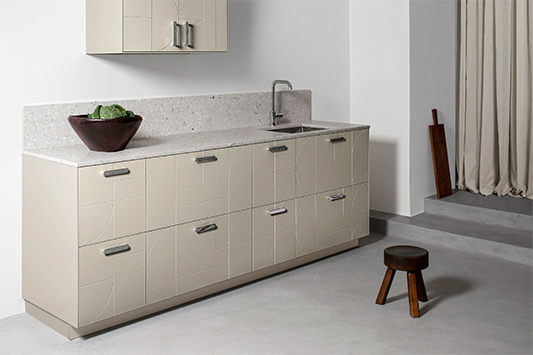 As you can see, the design options are endless. Petra stucco will provide your kitchen with a natural finish and a lot of warmth in the environment.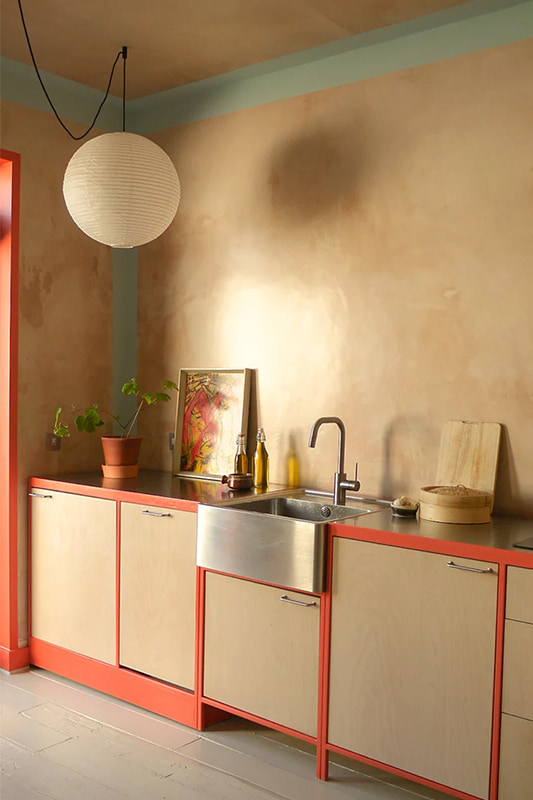 Japandi style
Japandi decoration is based on the wabi-sabi philosophy and is a mixture of Japanese and Scandinavian styles. It is mainly characterized by minimalist, warm and calm environments.
This latest trend in interior design makes use of natural elements such as wood, ceramic or cement and neutral colors to create functional rooms, but at the same time comfortable and cozy.
As you can see in the following design, the texture of cement in dark gray tones offers a natural and handmade appearance due to its irregularities, stains and imperfections.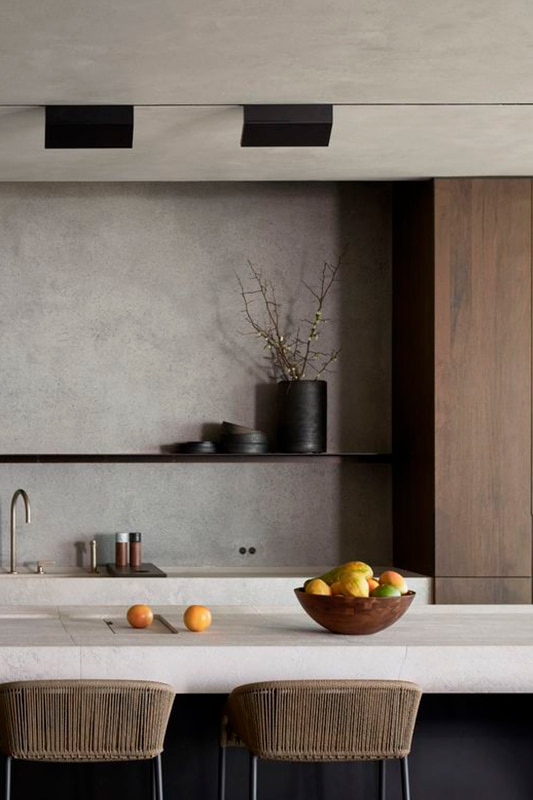 In this style you can also go for dark wood textures as in this case (smoked oak). Thanks to the sobriety of its colors and its veins you will have a very elegant and calm kitchen.